The Economist features LBRC Research
June 2012
The Economist features research paper "Devil Wears (counterfeit) Prada: a study of antecedents and outcomes of attitudes towards counterfeits of luxury brands", by Ian Phau and Min Teah
Dr. Min Teah and Dr. Michael Lwin win award at KSMS Conference 2014
Both award recipients highlighted the importance of their supervisor in the PhD process. "We would not have been able to get this far without the guidance and mentorship of Professor Ian Phau", said Dr. Teah and Dr. Lwin.
LBRC Research Features in U.K. 'The Independent Newspaper'
Feb 2016
The paper co-authored by Ian Phau and Michael Lwin, assess consumers' attitudes towards digital piracy and the strength of their religious beliefs.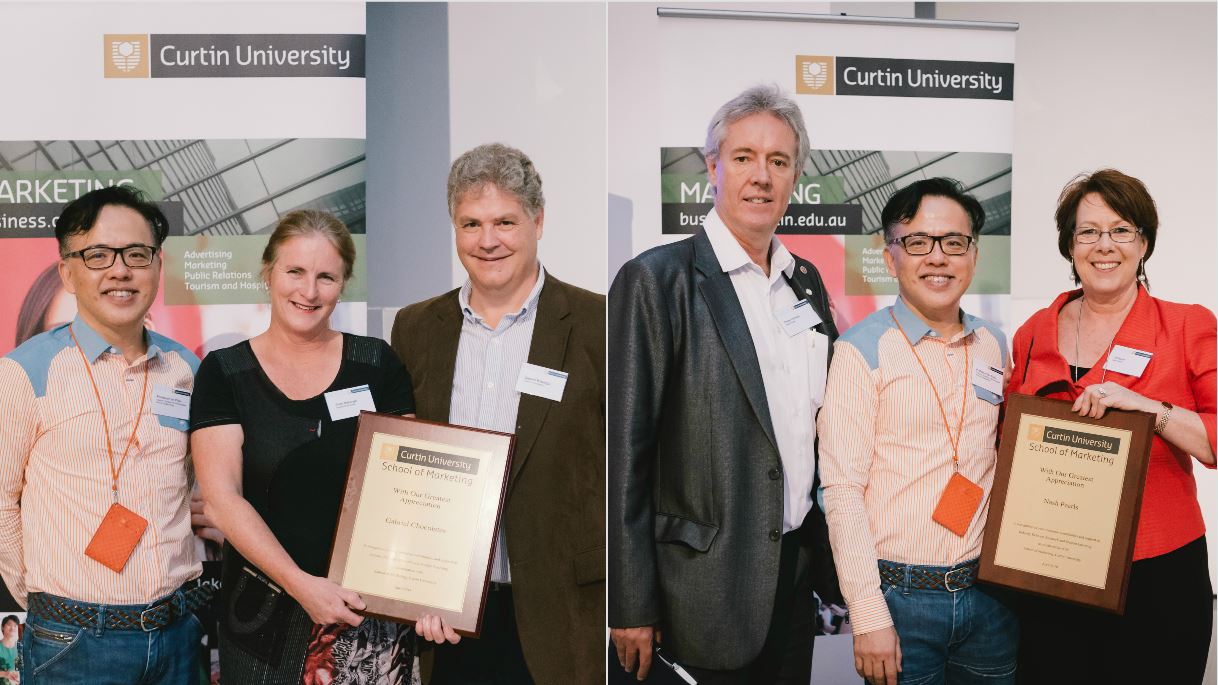 LBRC Clients receive Appreciation Awards
Three LBRC clients were awarded plaques in conjuction with The School of Marketing for their ongoing support. Nash Pearls, Gabriel Chocolate & Alliancz International were honoured.
Mystique of Luxury Brands Conference Shanghai feature in The West Australian
May 2016
Focusing on the Industry Panel discussions surrounding the changing ethics, habits and dynamics within the luxury industry both in China & abroad.
Mystique of Luxury Brands Conference Shanghai feature in Flamingo
June 2016
The Conference industry panel highlighted that the Chinese Luxury Market is in dire need of some serious introspection if they're to persuade people that luxury still stands for something other than high prices.
Prof. Ian Phau wins 'Best Track Chair' Award in Hong Kong
July 2016
The award recognised the fundamental value this track provided to the conference and the marketing industry overall by its industry relevance and global impact.
The Sunday Times Magazine features LBRC Research
Sep 2016
Dr. Min Teah provides commentary on how smaller Australian brands can survive the 'retail revolution'.
LBRC Students Receive Honourable Mention at KSMS Conference 2016
Kevin Teah and Emma Regolini receive Honourable mention for their research into Millennial Tea Consumption.
LBRC attend The Spring into Armadale Fashion Show
Prof. Ian Phau and A/Prof. Vanessa Quintal attend event to support client City of Armadale. Pictured here with Suzy Parravicini, Tourism Coordinator, City of Armadale & Alfonso Soliano, Freedom Foods.
LBRC Research shed light on the legality of copying in The Sydney Morning Herald
Nov 2016
The discussion centres on the legal issues surrounding copying, and to differentiate between, mimics, copies and counterfeits.
Prof. Ian Phau addresses Prada Alumni in Perth
2016
Prof. Phau addresses the negative impact of counterfeits on the luxury market and the positive impact mimics have to foster innovation.
LBRC Research featured in The Huffington Post Australia
Nov 2016
Dr Min Teah shares insights on the impact of copying across various markets within the luxury sector, from fashion to automobiles.
LBRC DuPont Award featured in the Australian Anthill
The LBRC won the inaugural DuPont Sustainable Solutions Innovation Award, for their research using the Luxury Branding Consumer Research Lab, with local clients like Gabriel Chocolate
LBRC Mimic & Counterfeit Research Insights feature in The West Australian
Nov 2016
This article assesses the implications when large luxury brands are mimicked by cheaper brands, they can ultimately devalue the original brand.
Prof. Phau Welcomed at Rennes Business School, France
Feb 2017
Prof. Phau, pictured with Maria Rechard travels to France to meet the Development Team at Rennes Business School in the upcoming plans for a LBRC Study Tour.
LBRC Team Head to DuPont Singapore Innovation & Development Hub
Feb 2017
Prof. Ian Phau, along with LBRC team members Dr. Min Teah and Dr. Billy Sung attended the DuPont Hub in Singapore as part of their prize. Pictured here with Prof. Fran Ackerman & Mr. Srinivason Ramabhadran.
Prof. Ian Phau attends FACET Seminar in Perth
FACET is a Western Australian based network to showcase the benefits that can be achieved when universities and the tourism industry work together
LBRC utilise Immersive Visualisation Hub
March 2017
The LBRC has utilised Curtin University's Hub for Immersive Visualisation and eResearch (HIVE), to further their research with industry partner Gabriel Chocolate. The research allows participants to 'experience' the Gabriel Chocolate store.
LBRC featured on Today Tonight
April 2017
Today Tonight report on how marketer's are using the latest advancement in technology to better understand consumer's decision making and guide srategies in the lead up to Easter.
Mystique of Luxury Brands Conference
May 2017
The LBRC have organised and hosted another successful conference, this time in Seoul, South Korea, with the aim of bringing together industry and research to foster strong international collaboration.
Postgraduate Study Tour France
June-July 2017
The LBRC co-hosted a successful Study Tour with select Marketing Postgraduate Students in Rennes, France with Rennes Business School.